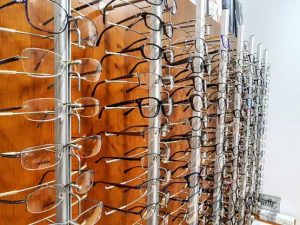 The Practice displays a wholly intriguing choice of spectacle frames from designers such as Daniel Swarovski, Valentino, Silhouette, Calvin Klein, Giorgio Armani, Jai Kudo , Maui Jim, Wolf Eyewear and Charles Stone to name but a few  plus many others.
With one thousand different frames always on display, our Optician will be pleased to help you towards the correct choice at whatever price level you choose. All our frames are of good quality and we strive to assist you towards an informed decision.
You will never be left to struggle, and fend for yourself, in a bewildering gallery of choice – in one respect we are "old-fashioned" – and that respect is in personal attention to service and ultimate satisfaction.
The Finest Prescription Lenses
A lens may just be something glazed into a frame but, as with the sight examination, there is so much more to getting the job done properly.
The choice of ophthalmic lens takes into account the needs of the patient's prescription and the frame chosen. Our professional task is to ensure that this is achieved.
We have access to every lens available in today's market place (Hoya, Zeiss, Essilor, Tokai, Shamir, Nokia and many others).